Browsing with screen magnification
Posted on by Henny Swan
In our fourth post from our browsing with assistive technology series, we discuss browsing with screen magnification.
You can also explore browsing with a desktop screen reader, browsing with a mobile screen reader, browsing with a keyboard, and browsing with speech recognition.
Screen magnification software enlarges content on a desktop computer, laptop, tablet or smartphone screen. It magnifies everything on the screen, including the operating system, applications, and content.
Who uses screen magnification
People who are partially sighted may use screen magnification. This includes people who have permanent sight loss due to conditions such as cataracts, glaucoma or ageing. People with temporary vision limitations such as tiredness or migraines may also choose to magnify their screens. People with situational limitations such as glare on their screen from sunlight may do the same.
Some people who are partially sighted may use screen magnification in combination with a screen reader. This is especially useful for people who may want to view magnified images and understand page layout but want a screen reader to read text. Read Browsing with a desktop screen reader and Browsing with a mobile screen reader to find out more.
People with cognitive or learning disabilities may also use screen magnification. Magnifying the screen can help people focus on critical tasks and remove unwanted distractions such as banner adverts or animations.
Commonly used screen magnification software
Screen magnification is built-in on all popular platforms, including Windows, macOS, iOS and Android.
Windows has Magnifier built-in and macOS has Zoom. Android Magnification increases everything on screen as does Zoom on iOS. Both mobile platforms also support pinch zoom and the ability to magnify parts of the screen.
Built-in screen magnification is limited by the level of magnification and features it supports, so some people use a separate software such as SuperNova, ZoomText or Fusion all available on Windows.
ZoomText is screen magnification with speech and, according to the WebAim Survey of screen reader users in 2021, is commonly used with the Chrome and Edge browsers. Fusion is a combination of the JAWS screen reader and screen magnification.
How screen magnification works
Screen magnification magnifies all or part of the screen. Depending on the software, content on-screen can be enlarged up to 60 times the original size. This is a percentage increase of 6000%, considerably more than the 200% or 400% recommended in the Web Content Accessibility Guidelines 2.1 (WCAG).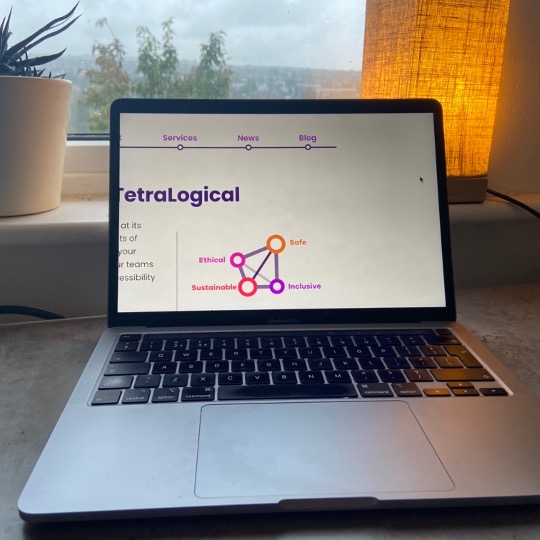 Screen magnification software is used with a mouse, touchpad, keyboard or other pointer devices. It also comes with keyboard commands to help you quickly execute common actions like zooming in and out.
A valuable feature of screen magnification is focus tracking. As the pointer or cursor moves, the screen magnifier moves with it. Screen magnifiers can also smooth the edges of blocks of text and images to make content more readable.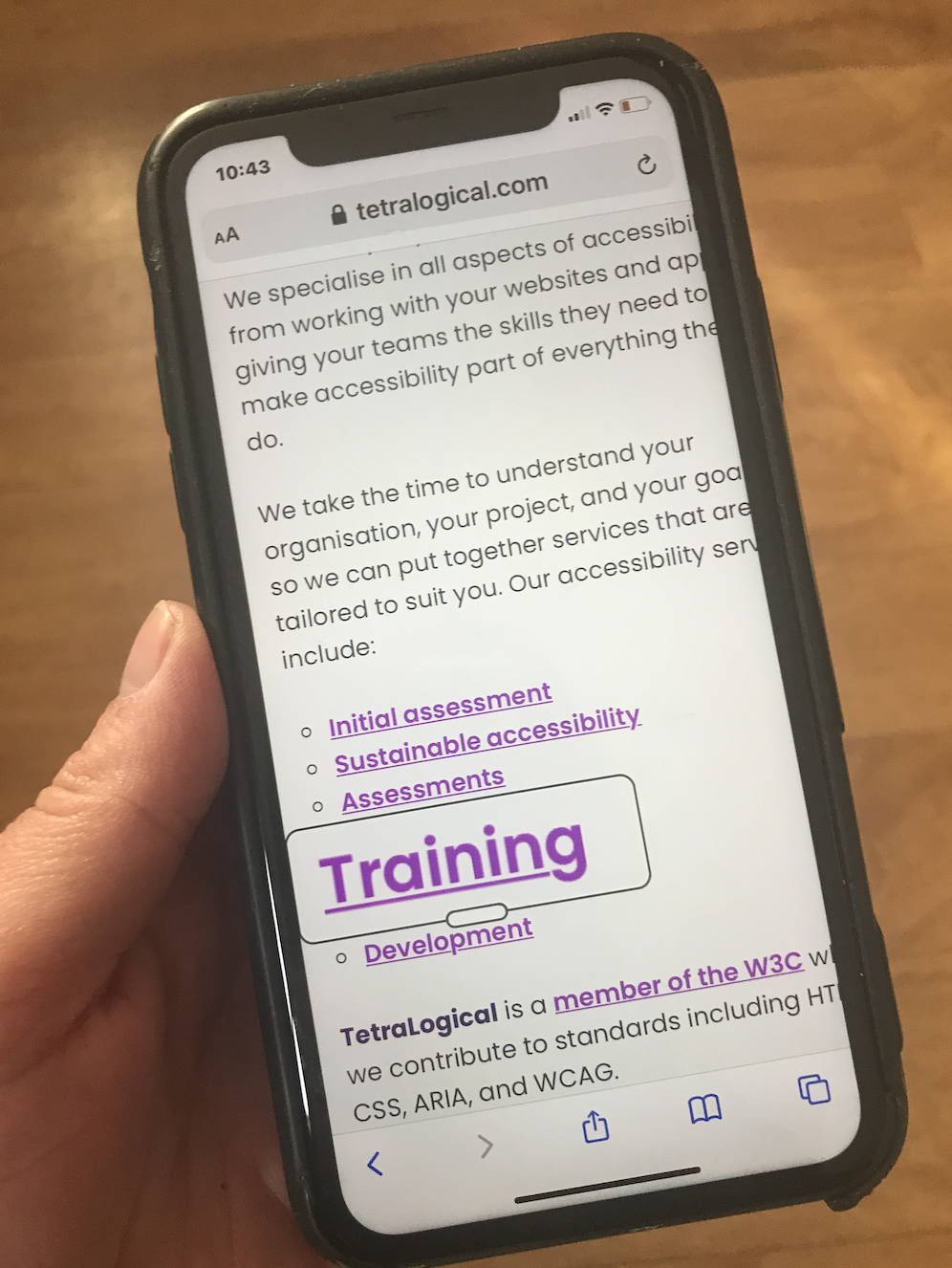 Customising screen magnification
While magnifying content is helpful, people often use other enhancements to make content easier to see.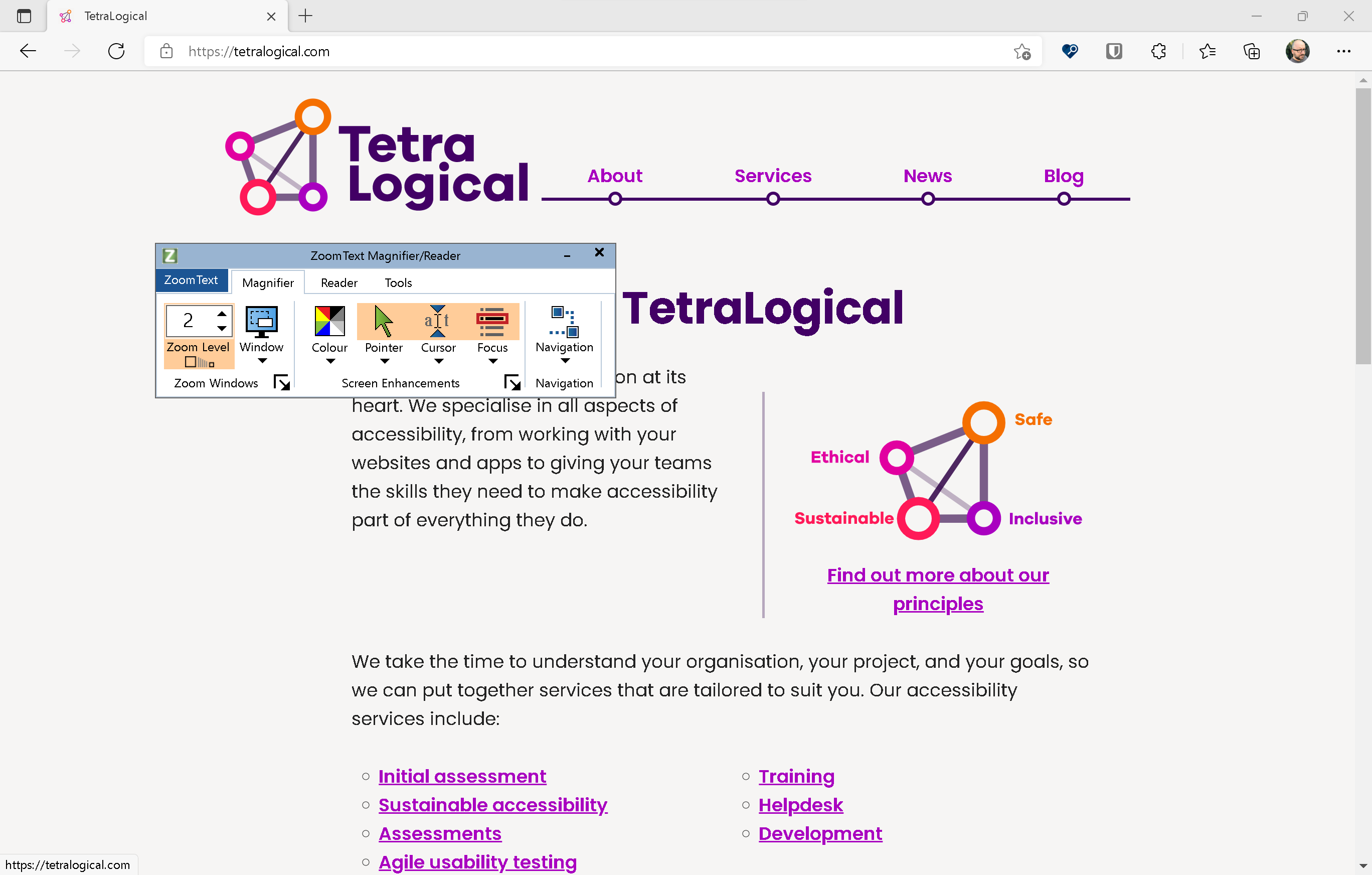 Colour inversion, turning text from black-on-white to white-on-black, can reduce screen glare and is helpful for older people or people with certain sight conditions such as macular degeneration.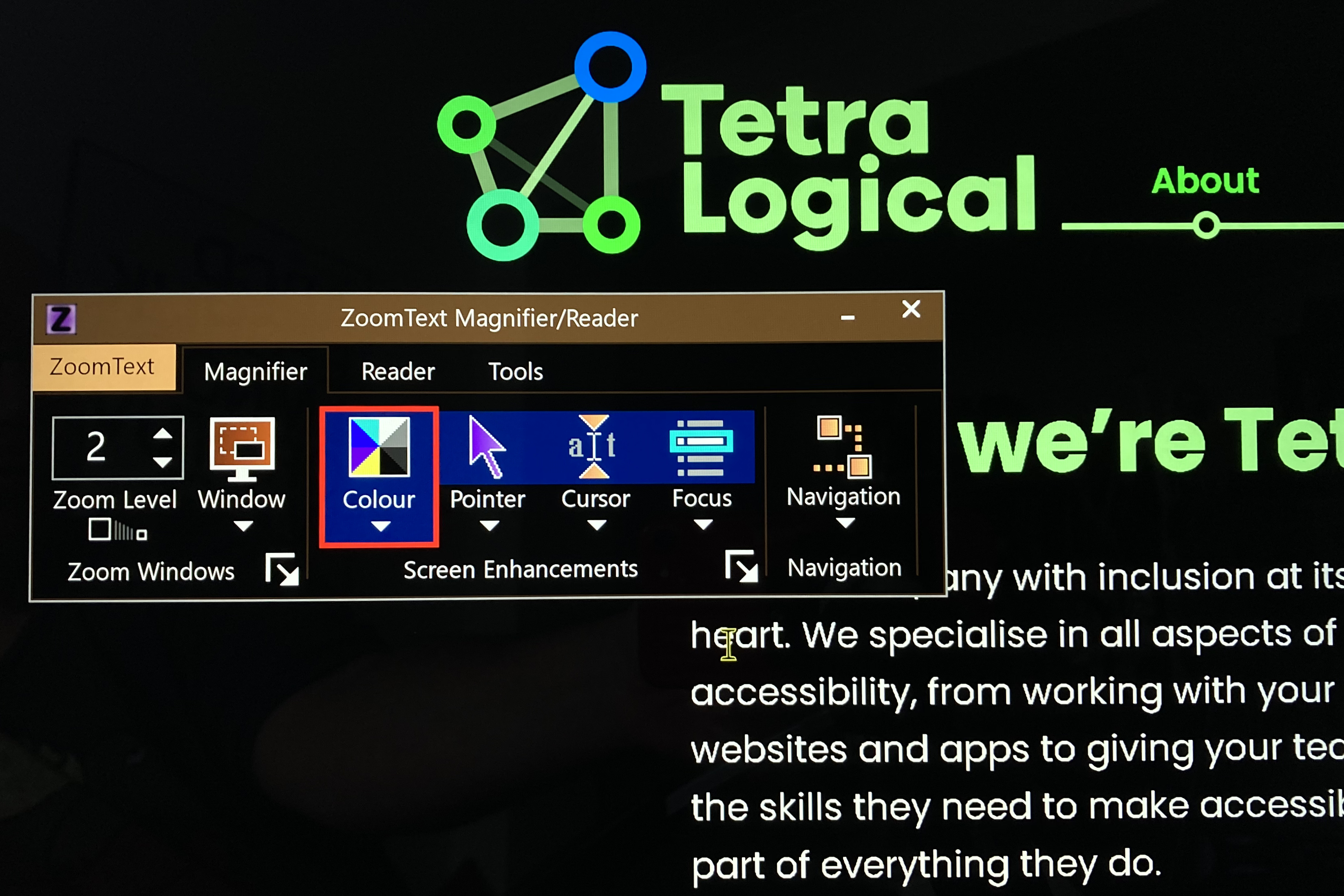 Mouse and text cursors can often be modified to make them easier to locate on screen. This could be by enlarging them, circling them or changing the colour. Some people may prefer to use crosshairs (a cross) rather than a mouse cursor, especially if they can be customised.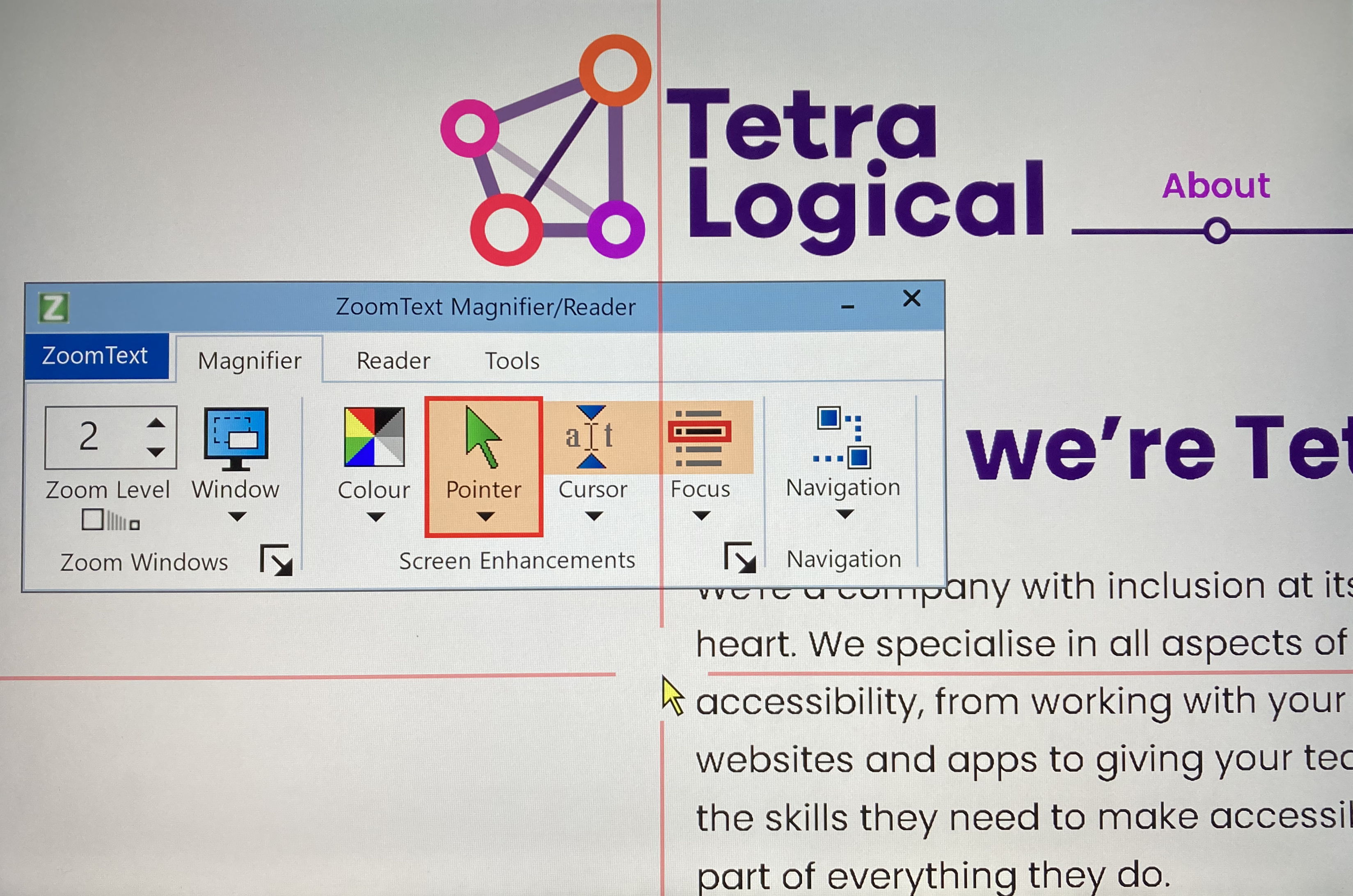 Different magnification modes can be used for different tasks. Magnification can cover the whole screen, or a magnifying lens can be moved around the un-magnified screen. This is useful when browsing lists of links as by magnifying that area, the links become larger and easier to select.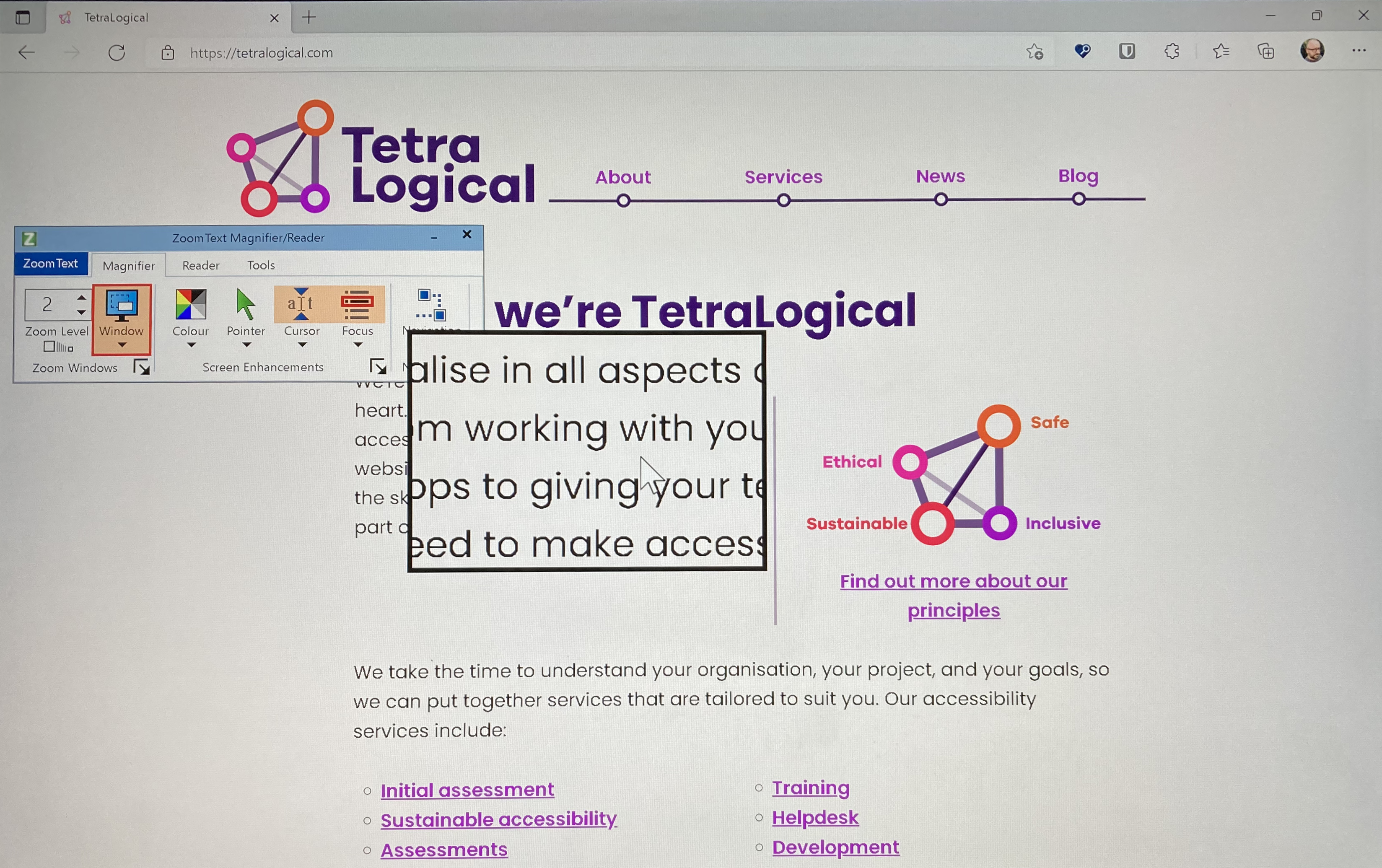 Screen magnification and speech output
Screen magnification is helpful for some tasks, but speech output is better for others. For example, speech output is useful when images are blurred, and you want to listen to the text description instead.
Fly-out menus and pop-ups can be challenging to use as they take over the whole screen. Providing they are coded correctly, speech output can help people access the links and controls to navigate away from or close the menus and pop-ups.
Navigating with screen magnification
People who use screen magnification will look at the top left when opening a web page to understand where they are. Typically this is the website logo in the header. People expect to find common features such as the main navigation, search and links to login and help by scrolling horizontally.
When using screen magnification, it can be easy to become disorientated in long web pages, pages with a lot of content, or pages with large areas of white space. A common strategy is to zoom out to find your location quickly and then zoom back in again to explore the content in-depth.
People who use screen magnification rely on their mouse (or finger on a touchpad) to pan their screen and, at times, need different levels of magnification. For example, if links and buttons are small, magnification can be increased so people can select them accurately.
British Sign Language (BSL) version of "Browsing with screen magnification"
Summary
People use screen magnification because they have partial sight or have a cognitive or learning disability, which means magnifying content is helpful.
People who use screen magnification have many options available to help make content more visible. This includes inverting colours, customising the mouse pointer and cursors, using a crosshair cursor and an on-screen magnifying glass. They can also combine screen magnification with speech output.
People can navigate using a mouse or touchpad and often zoom in and out of content to orientate themselves, find their location in a page and enlarge controls to make them easier to select.
Updated Thursday 2 March 2023.
Comments
Contact us
We like to listen. If you have a project, product, problem, or idea that you want to discuss, get in touch!