Adding sign language to videos
Posted on by Henny Swan
As part of our ongoing effort to meet the Web Content accessibility Guidelines (WCAG) 2.1 and 2.2 Level AAA, we've created British Sign Language (BSL) versions of our video and created BSL playlists in our TetraLogical YouTube channel.
In this post we explore our process for adding BSL to videos and share some tips.
Introduction
Sign language is a visual form of communication for people who are Deaf or hard of hearing. It uses hand, arm, body movements, and facial expressions to convey meaning and is often the native language for many people who are born Deaf or have been deaf since before they could speak.
There are different versions of sign language across different countries and regions, examples include, but are not limited to:
British Sign Language (BSL)
American Sign Language (ASL)
Black American Sign Language (BASL)
Auslan (Australian Sign Language)
Chinese Sign Language (CSL or ZGS)
Along with captions and transcripts, sign language is a format that can be included with videos to make them more accessible.
Sign language can be easier to understand than written language, and it offers a richer experience than captions for some people because facial expressions are better at expressing emotions.
When watching videos, people may use a combination of sign language, lip-reading, and captions. What people use will depend on their preferences and situation.
The following browsing with speech recognition video, includes BSL.
Creating sign language video
Along with audio description, captions, and text transcripts, sign language should be at the heart of an inclusive approach to video production. Unless you have the resources in-house, it is generally best to outsource this to a company that specialises in sign language content creation.
To provide the best possible experience, consider the presentation, synchronisation, accuracy, and positioning of the signer. Whether you are creating signed versions yourself, or outsourcing it, here are some tips for each.
Presentation
The background and the signer's clothing should be solid colours that contrast with their skin tone. There should be good lighting, so it is easy to see the signer's hands and face.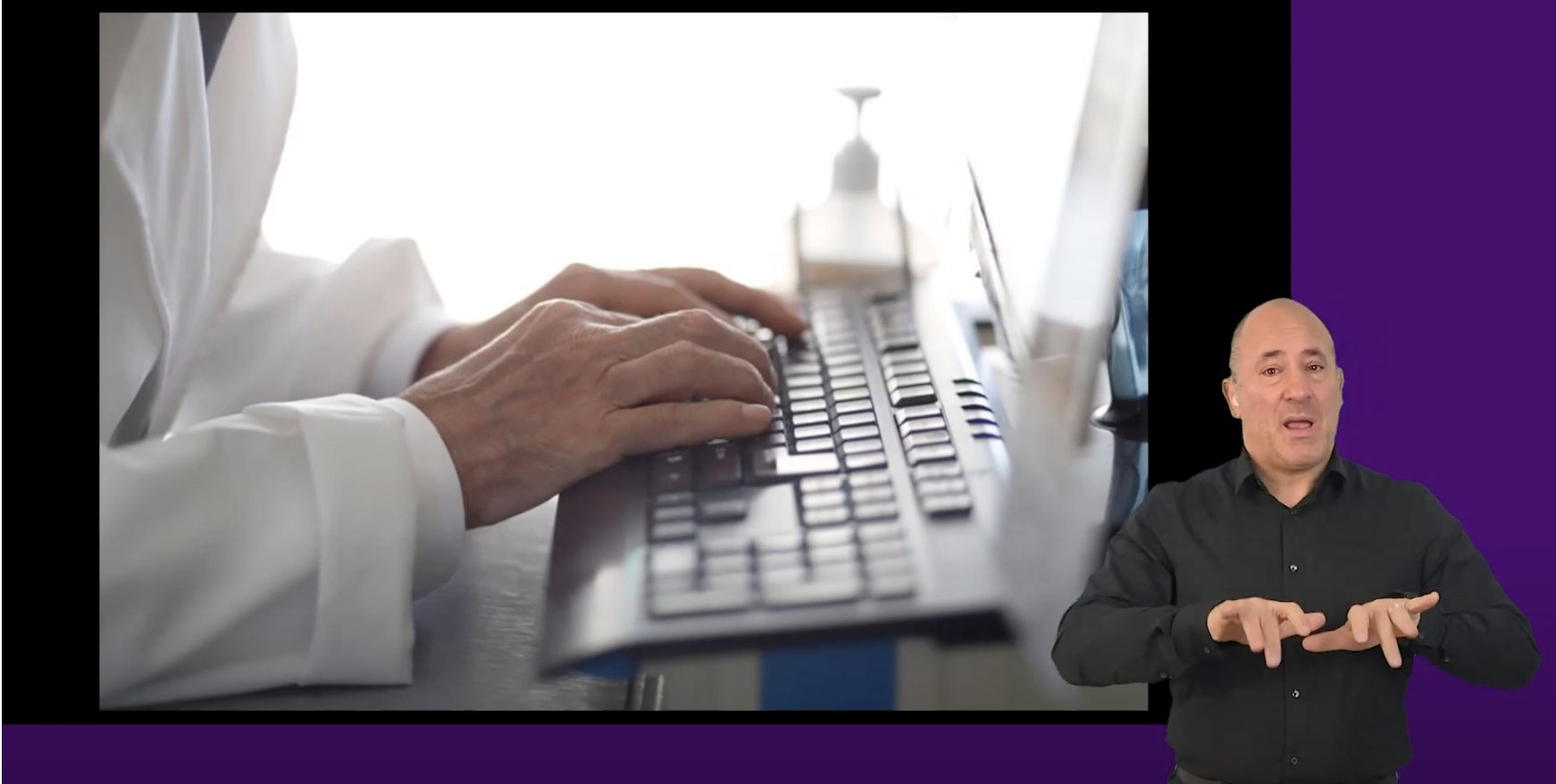 Synchronisation
The person who is signing should follow the same pace as the speech and sound. This helps people who are both lip-reading and watching the sign language interpreter.
Synchronisation also applies to off-screen speakers.
Accuracy
Sign language should provide a comparable experience for people and reflect the spoken text as closely as possible, for example:
Use verbatim text rather than edited text; the viewer should have as much access to the soundtrack as possible
Use the same style as the speaker; for example, if the speaker is using slang, so should the signer
Positioning
A sign language interpreter should be positioned so you can clearly see the video contents as well as the signer, for example on the bottom right of the screen. The signer should be large enough to see from the waist upwards.
If there is text or a news ticker in the same space as the signer, the signer can be moved up, so the text is not obscured.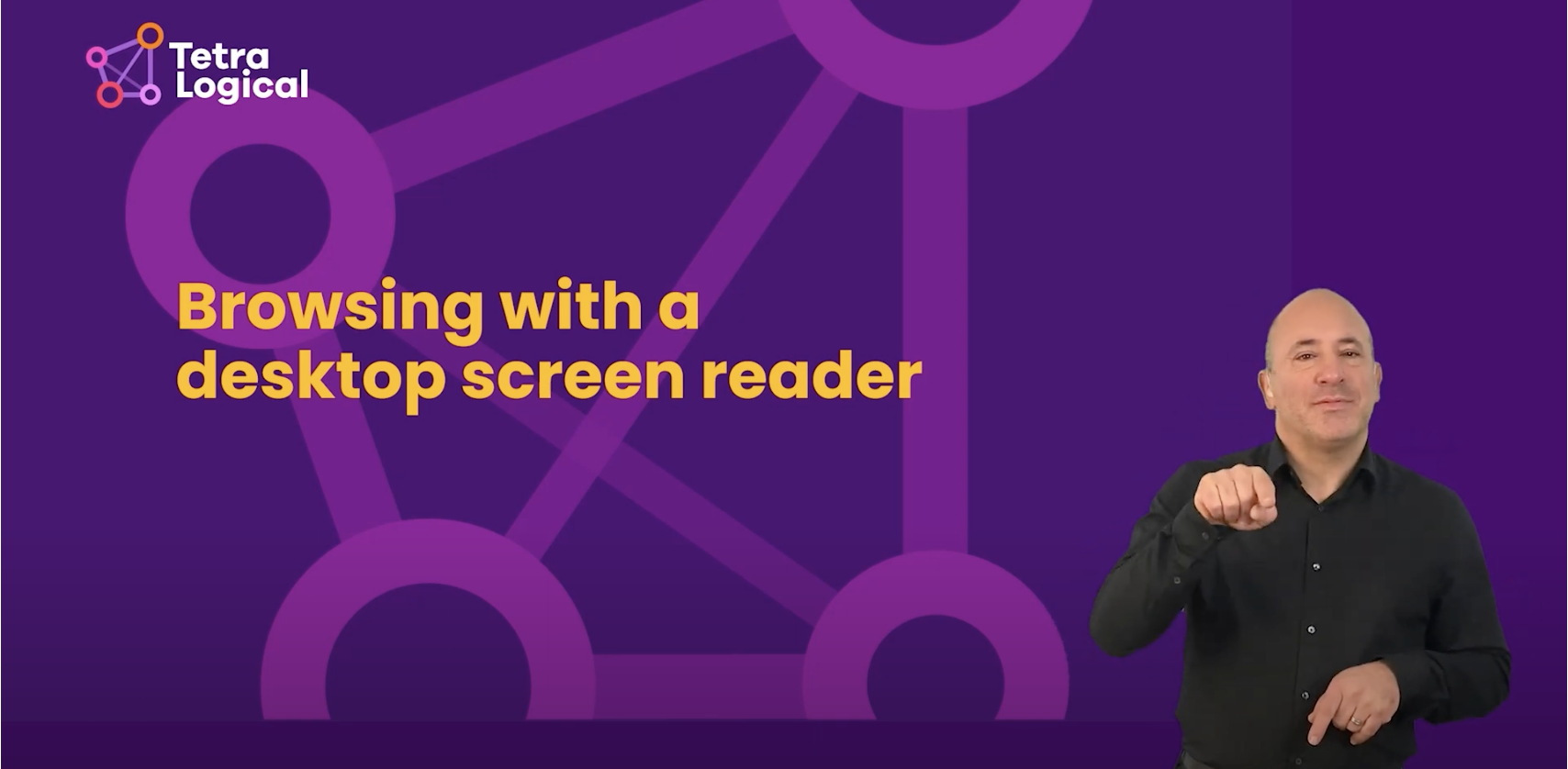 Linking to sign language versions
Make sure sign language versions of video are easy to find, for example provide links to sign language versions via:
Category menus and pages
Listings pages such as search results
The page where the video is embedded

Testing sign language
When testing videos for sign language check:
Sign language is accurate, for example it matches the audio track
Sign language is synchronised with the audio track
Ideally check this with people who use sign language every day, as they can comment on the quality and delivery of the sign language.
Meeting the Web Content Accessibility Guidelines
Support for sign language in the Web Content Accessibility Guidelines for both WCAG 2.1 and WCAG 2.2 is Level AAA and required for pre-recorded video:
Meeting the Inclusive Design Principles
Using the Inclusive Design Principles as a framework, we can create more usable video for people who use sign language with the following four principles.
Provide a comparable experience
Ensure your interface provides a comparable experience for all so people can accomplish tasks in a way that suits their needs without undermining the quality of the content.
By adding accurate, synchronised sign language, you provide a richer experience that conveys sentiment and emotion better than captions or a transcript.
Consider situation
People use your interface in different situations. Make sure your interface delivers a valuable experience to people regardless of their circumstances.
By adding a sign language version, you include people who prefer visual language to reading captions or transcripts, or have problems reading due to low literacy or low vision.
Offer choice
Consider providing different ways for people to complete tasks, especially those that are complex or non standard.
By adding a sign language version, you give people a choice between captions, text, and sign language.
Add value
Consider the value of features and how they improve the experience for different users.
By adding a sign language version, you greatly enhance the accessible user experience for many people who are Deaf or hard of hearing whose first language is sign language.
BSL videos
Our BSL videos are linked from the TetraLogical website and available YouTube channel:
Next steps
For more information about accessible multimedia, read an inclusive approach to video production. We also offer self-led training courses in Accessible multimedia.
Comments
Contact us
We like to listen. If you have a project, product, problem, or idea that you want to discuss, get in touch!