Meet the team: Dean Holden
Posted on
Meet Dean Holden, a music-loving, vinyl-collecting family man who has also made significant contributions to web accessibility in his decades of experience in the corporate world.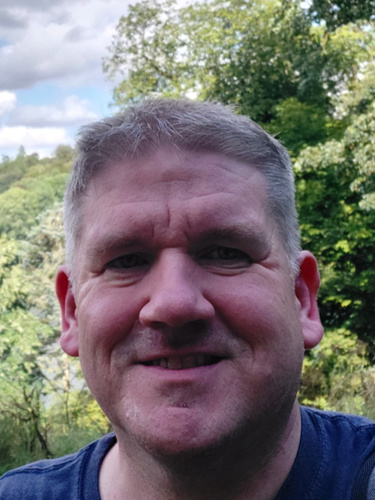 Born in Rochdale, North Manchester, music has probably been the most significant focus of his life. He started teaching himself the keyboard when he was around six, and most of his memories from senior school are around music. He played the piano for all school assemblies, choirs, swing bands, and show rehearsals and was let loose on the Parish Church organ for special school events.
He then went on to read music at Bangor University in the mid-late 90s, although if truth be told, he did little reading and much of his degree was spent in the recording studio (and the pub). After that, he spent a couple of years helping to run a purpose-built recording studio for GCSE and A-level music specialists at Wells Cathedral School in Somerset.
At Wells, he met his wife Sophie, a professional flautist and woodwind teacher, and they have been happily married for over two decades with two kids. Dean is a family man at heart and loves spending time with them. He has also grown a large collection of vinyl records since he was about ten years old, to the point where he has several thousand, which he is still slowly making his way through as background music to work.
Dean's other passion is Rochdale football club, who he has been following for over 35 years. When he lived with his parents in the early 90s, he and his dad rarely missed a match home or away. He still tries to see them play when he can now, but it's far less than it used to be.
Around the turn of the century (just to sound old), Dean joined Nationwide Building Society and worked there for over 20 years, the vast majority of which he spent working on the company website as a web developer. While there, he also built a successful site called Live Sport on TV in his spare time, which was getting to be almost a full-time job of its own, so he sold the site and moved his focus to accessibility!
At Nationwide, he became an accessibility specialist within the organisation and helped set up the foundations of a dedicated accessibility team with Léonie Watson. Together, the Nationwide accessibility team began work to embed accessibility through the company's end-to-end processes, creating role-specific guidance on accessibility responsibilities and delivering face-to-face team training sessions. More recently, Dean has worked as a Senior Accessibility Engineer at TPGi, leading a team in providing accessibility audits for clients.
Dean has gone from musical prodigy to now becoming a Senior Accessibility Specialist at TetraLogical, having joined our team in December last year.
What's the one thing you wish you'd known when you started learning about accessibility?
As a self-taught front-end developer, I wish I had been given context and understanding of my audience and their needs. I remember looking up accessible names and how to use screen reader software in order to fix bugs that were just along the lines of 'cannot use with a screen reader'. In my mind I was just looking for a quick technical fix. But looking back I know that what I really needed was an understanding of how different people would use what I was building in different ways and with different needs.
What's your top accessibility tip?
I try and think of myself using what I'm creating or assessing in different situations that cover off a multitude of potential issues. So for example:
Can I do everything with a keyboard?
Could I use it in glaring sunshine outside (thinking about colour contrast, zoom, reflow for smaller screens, use of colour, etc)?
If I couldn't see it for whatever reason, could I understand the content, context and layout without the visual clues (thinking about semantic HTML structure, text alternatives, notification of dynamic updates, etc)?
If I had to use my voice to interact, is it obvious how things are programmatically named so that I can refer to them (thinking about accessible names of buttons, for example, so that I can say "click 'go to previous step' button)?
I just find imagining myself in various situations helps me understand what's needed.
What's your top accessibility resource?
Probably the ARIA Authoring Practices Guide (APG). I refer to it often, just because it's easy over time to lose track of the basics. Other than that, probably reading blogs of many other accessible professionals out there such as Adrian Roselli from whom I've learnt a massive amount from.
Find out more about TetraLogical, the team, our principles and our community.
Comments
Contact us
We like to listen. If you have a project, product, problem, or idea that you want to discuss, get in touch!