Meet the team: Léonie Watson
Posted on
Meet Léonie Watson. Our purple-haired maverick was TetraLogical's founder back in 2019 and has guided this accessible ship through an incredible amount in such a short time.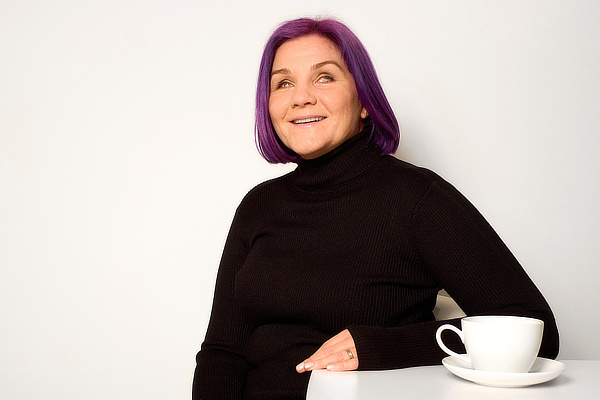 Léonie is hugely active in the digital accessibility community. She's a member of the W3C Advisory Board; co-Chair of the W3C Web Applications Working Group; a member of the BIMA Inclusive Design Council and is a Microsoft Most Valued Professional (MVP).
Léonie is also co-organiser of the Inclusive Design 24 (#id24) conference; co-author of the Inclusive Design Principles; and a mentor to young people interested in the fields of accessibility and inclusive design.
Obviously, all of this wasn't enough, so she set up a company as well. TetraLogical was founded in 2019 and has gone from strength to strength, despite a global pandemic, more than doubling over the last three years.
This tireless energy extends to Léonie's hobbies as well. Somehow she manages to have spare time, and fills it reading, cooking, dancing and drinking either tea or tequila (we're never sure which)! She is also studying for a BA in History, which seems to be comprised of 70% work and 30% biscuits.
An accomplished speaker, Léonie has led talks, panels and discussions at conferences around the world, mostly talking about web standards, accessibility mechanics, and pushing the boundaries of inclusive design (with existing technologies like SVG, HTML, ARIA, and JavaScript, as well as new technologies like AI and WebVR).
She has also written about some of these things for Smashing magazine, SitePoint.com, Net magazine, and the BBC as well as on her own site tink.uk.
What's the one thing you wish you'd known when you started learning about accessibility?
That I would never be done learning. Even now I'm constantly learning new things about accessibility, which is just as well because I get bored far too easily!
Technology evolves and changes, and so does accessibility. There are always new challenges, new ideas, and (still much too often) new problems.
It's been interesting to watch accessibility mature over the years, so that now we're increasingly finding people specialising in just one particular area. It's quite recognition of the fact that accessibility is now so broad and so varied, that none of us knows it all.
What's your top accessibility tip?
It doesn't have to be perfect, it just has to be a little bit better than yesterday.
It's easy to get caught up in the enormity of accessibility - what it means to people (especially when it goes wrong), and the level of effort it takes to get it right.
As Baz Lurman said:
Don't worry... Or worry, but know that worrying is as effective as trying to solve an algebra equation by chewing bubble gum
When it comes to accessibility, try to learn something new every day, or to fix one issue, then keep doing that. It won't be long before you've acquired lots of new knowledge and skills, and you realise you've fixed lots of issues that'll have a big impact on a lot of people.
What's your top accessibility resource?
ARIA in HTML from the W3C. It's where all the rules for using ARIA with HTML are documented. If more people used it as a code reference, and got into the habit of using one of the tools that can check HTML code against these conformance rules, it'd help prevent a lot of ARIA related problems.
More from Léonie
Comments
Contact us
We like to listen. If you have a project, product, problem, or idea that you want to discuss, get in touch!