Meet the team: Patrick H. Lauke
Posted on
Meet Patrick H. Lauke, he's a technical wiz, passionate advocate and all-round expert in the world of digital accessibility. Here he shares his favourite resources and tips for those starting out.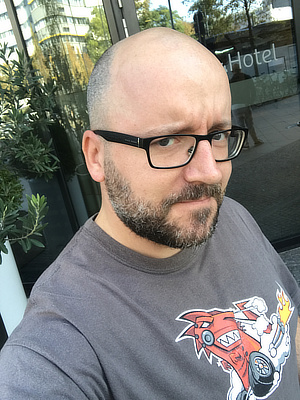 Patrick H. Lauke is a principal accessibility specialist at TetraLogical. He spends his working week tackling accessibility issues and giving recommendations to clients and then relaxes at the weekends by… tackling accessibility issues and giving recommendations on open source projects instead.
Patrick worked as a Web Evangelist in the Developer Relations team at Opera Software before moving on to work at The Paciello Group (now TPGi) as a Principal Accessibility Engineer. He's been involved in the discourse around Web Standards and Accessibility since 2001, actively speaking at conferences and participating in early initiatives such as the Web Standards Project (WaSP).
The team are often entertained with updates about his weekend culinary adventures, and the social call on a Friday is not complete until we've all given an opinion on what the Lauke household should be having for dinner that evening.
A keen photographer, Patrick has nearly 18 thousand photos in his online photo album on Flickr, documenting his many travels, adventures, projects and outings. He's only six years behind the organisation of these photos and will no doubt keep adding generously to the pile. Patrick also makes random recreations of old console/arcade game pixel fonts and displays these on splintered.co.uk, a website for "random sparks of creative insight."
To further nurture his creative flair, Patrick lends his dulcet tones to the video series for both TetraLogical's Quick accessibility tests and Browsing with assistive technologies and has been instrumental in their conception and creation. He has contributed to the TetraLogical blog, to share his knowledge on Animations and flashing content and Session timeouts.
Alongside his day job, Pat is an active member of the online accessibility community, giving his time and expertise to various standards, committees and working groups. He contributes to the Web Content Accessibility Guidelines, is a co-editor of the W3C Pointer Events Level 2 specification and co-editor of the W3C Touch Events Level 2 specification.
What's the one thing you wish you'd known when you started learning about accessibility?
It can likely be attributed to the hubris of youth, but when I first started back in the days of the Web Content Accessibility Guidelines (WCAG) 1.0, I was firmly convinced that whether something is accessible or not was a binary question. While it's true that for certain specific cases / success criteria you can confidently make a simple pass or fail statement, there are many situations when dealing with real-world web content where a lot more nuance in required. And realising that content can both be "technically" accessible, and still present people with problems - that "passing WCAG" is often only the bare minimum.
What's your top accessibility tip?
When building complex, highly interactive workflows and widgets that don't fall neatly within any standard pre-established patterns, developers often resort to just throwing more and more ARIA attributes and roles on their markup - often just following assumptions on how these additions work, rather than actually testing them using assistive technologies. In the first instance, I'd recommend taking a step back and trying to break down a complex widget into more manageable and known components (an expand/collapse disclosure control, a tab interface, a toolbar with various controls acting as mutually exclusive radio buttons, etc.), and building it "from the bottom up" rather than trying to sprinkle accessibility on it "from the top down". This advice also applies to auditing. It can be overwhelming to be faced with a complex, highly interactive interface, and having to determine whether it's accessible or not. Again, breaking it down into its sub-components and assessing them "atomically" first, before moving on to how these components interact as a whole, can be helpful.
What's your top accessibility resource?
One of the resources that I keep revisiting regularly are the ARIA Authoring Practices Guide patterns. Although they are far from perfect, they do provide solid implementation suggestions for the more common interactive ARIA widgets. While there are often many different ways to build a particular widget, it's nice to be able to reference relatively solid working example of a particular pattern - both in order to test how a browser/assistive technology combination handles a it, and as a well implemented starting point that developers can then modify and adapt to their specific needs.
More from Patrick
Find out more about TetraLogical, the team, our principles and our community.
Comments
Contact us
We like to listen. If you have a project, product, problem, or idea that you want to discuss, get in touch!