Meet the team: Ian Pouncey
Posted on
Meet Ian Pouncey, a Director since day one of TetraLogical and our resident fitness, health, and weightlifting expert.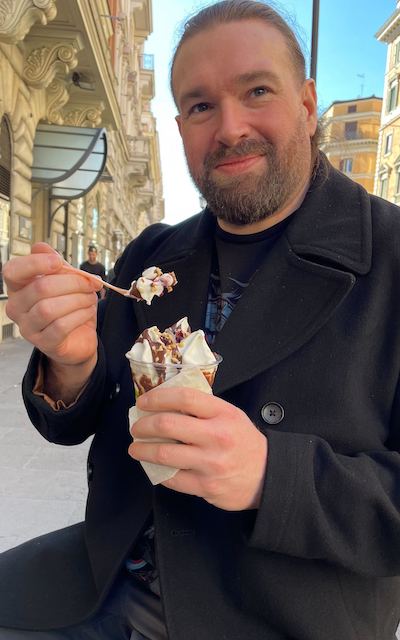 Ian hails from the Wirral, a charming peninsula nestled near the cities of Liverpool and Chester in North West England. In 2007, he decided to take his web development skills on a grand adventure and relocated to London. There, he joined the dynamic team at Yahoo! where he worked his magic on the iconic Yahoo! homepage.
When Ian isn't immersed in the world of web development, you'll find him headbanging to his favourite heavy metal music. He is particularly enamoured with the legendary band Iron Maiden, because (apparently) they are the absolute best in the world and Ian will not hear otherwise. He also makes sure his long dark hair stays on brand in a particular viking meets modern metal fan way.
As a Star Wars aficionado, Ian has a passion for all things sci-fi and fantasy. Whether it's spaceships battling in galaxies far, far away or mythical creatures roaming enchanted lands in the pages of a novel, Ian is right in the midst of it all.
Ever since he was a teenager, Ian has been embarking on epic quests and battling fearsome dragons as a devoted player of role-playing games like Dungeons & Dragons, and continues this tradition to this day.
Ian's journey into the world of web development began way back in 1995, when the internet was still finding its feet. He started writing HTML code in 1996, and by 2000, he had established himself as a professional web developer. Along the way, he worked with various companies, from small web agencies to big players like Yahoo!, the BBC, and TPG (now TPGi). Ian's repertoire expanded as he transitioned from using Dreamweaver to becoming a master of hand-coding HTML, CSS, and JavaScript, all while embracing web standards and accessibility as part of his day-to-day work.
Ian has even penned a book titled Beginning CSS: Cascading Style Sheets for Web Design, 3rd Edition. Other books are of course available, but as we're highly biased we're going to say this is the best one.
With a wealth of experience under his belt, Ian has actively contributed to the web development community. Since 2008, he has been involved in various W3C working groups, sharing his knowledge and expertise to shape the future of the web.
Today, Ian proudly serves as a Director at TetraLogical and has been involved since the very beginning. With over two decades of experience, he is a true veteran in the world of web development, ensuring that the digital landscape is accessible and inclusive for all.
What's the one thing you wish you'd known when you started learning about accessibility?
I wish I'd known more about how people, particularly those with disabilities, use the web. As with many web developers, I learnt from books, blogs, and conference talks rather than formal training in HCI or a related subject, so I didn't have much exposure to how people really use the web. I muddled along and, in hindsight, did a decent job, but I could have done better. It's an ongoing learning experience, and there is still more for me to know.
What's your top accessibility tip?
Can I only have one?
Look for accessibility improvements you can make every time you update a design or a piece of code
Designers: communicate the intent behind your choices in your designs; annotate them with structure, semantics, and interactions
Developers: work with designers to help with the technical aspects of structure, semantics, and interactions
What's your top accessibility resource?
Not specifically for accessibility, but I use MDN a lot. It's a great resource for web developers, and it has a lot of information about accessibility.
Find out more about TetraLogical, the team, our principles, and our community.
Comments
Contact us
We like to listen. If you have a project, product, problem, or idea that you want to discuss, get in touch!